Driveway Cleaning Annapolis, MD
100% Satisfaction Guaranteed
Over 15 Years of Experience
Free Estimates
5-Star Service
Fully Insured
Trustworthy & Affordable
Call Us For a Free Estimate!
(410) 571-4121
Driveway Cleaning – Quality Work
The first thing people notice when arriving at your home or business location, is how well the driveway, sidewalks, and walkways are maintained. Unfortunately, these cement surfaces are high traffic areas meaning they get dirty quickly. When it comes to regular maintenance, these surfaces are often ignored. Maintaining them now could save you money in the future. Any maintenance routine that you do now will extend property life, which is why we highly recommend having your concrete cleaned regularly. By doing so, you will remove dirt, mold, and mildew which age concrete fast! Contact the professionals today to help you.
Concrete & Asphalt Cleaning Services
Your concrete driveway or parking lot endures daily vehicle traffic and is always exposed to the elements, making them a perfect target for staining and contaminant build up. Tree sap, oil, dirt, and mildew will grow on the surface over time. These pavement enemies can do a lot of damage if not removed promptly. In the worst case scenario, they can cause the concrete to split and crack. These cracks will only widen as water is allowed to get in them and freezes and expands during the colder months. We take care of residential and commercial properties and we would be happy to help get your concrete in safe, healthy condition.
We also service asphalt roadways and lots! Like concrete, asphalt is considered a durable material. However, it too is susceptible to harmful substances like algae and mildew. Without your help, your driveway will eventually succumb to the contaminants growing on it and crack and wear down. Extend the life of your pavement with regular concrete and asphalt pressure washing!
What Cleaning Method is Best?
Unlike wood decks and patios, concrete and asphalt are relatively durable and can withstand high pressure cleaning. Because these surfaces have tiny grooves, power washing is actually beneficial because it clears out every crevice. Driveways can be soft washed; however they can handle more powerful cleaning. Materials like vinyl siding and roofing are more appropriate candidates for a gentler method.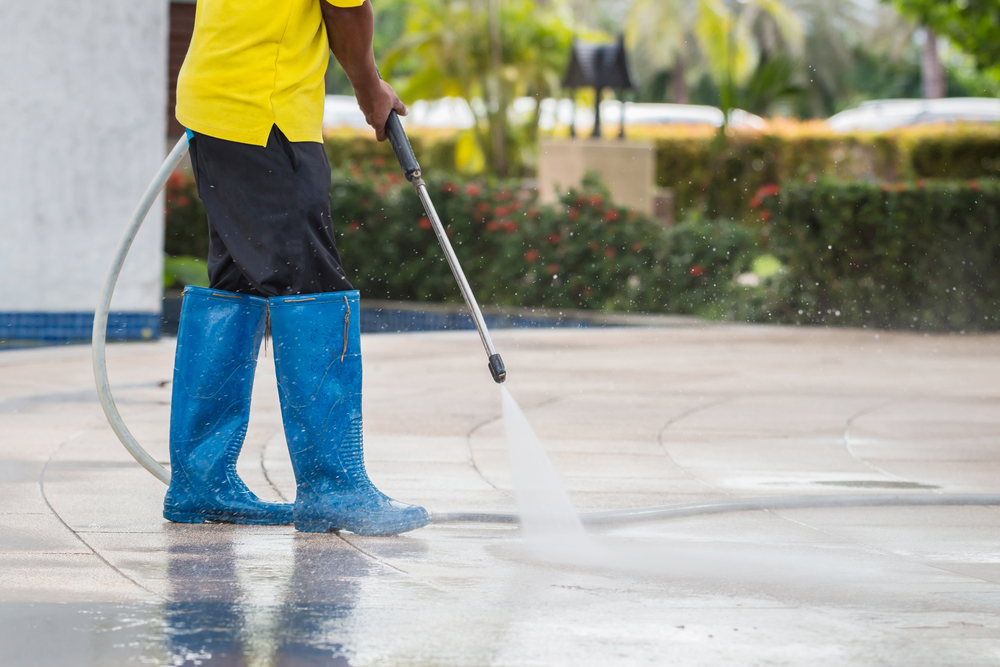 Call Us For a Free Estimate!
(410) 571-4121
Why You Should Invest in Professional Driveway Maintenance
This is a task that you might consider tackling yourself. However, you might be better off hiring a professional to do it for you. Why?
It is Safer: Doing it yourself is a major hazard. Without the proper training, you risk injuring yourself or damaging your driveway by using the wrong water temperature, pressure, or detergents. We are professionally trained and use the safest techniques, so you can rest assured knowing you're getting quality and reliable service.
You Save Money: Our services are affordable, especially compared to the time and money it would take to buy or rent and clean your own equipment. In addition, when you have us clean your concrete driveway, it is far cheaper than replacing your whole driveway to make it look like new. We firmly believe in preventative care! And routine maintenance is just the ticket.
Expert Driveway Cleaners in Anne Arundel County
Our team has been in business for over 15 years. We have seen all types of stains, dirt, and build up of mold on all kinds of surfaces. As homeowners ourselves, we care about the cleanliness and upkeep of our customers' homes and want to give you the best service possible. Allow us to assist you in your exterior maintenance projects. We have the right equipment, techniques and man power to wash any surface! Our speciality is 100% customer satisfaction.