Pressure Washing Davidsonville, MD
Free Quotes
Fully Certified & Insured
Prompt & Reliable Services
100% Customer Satisfaction Guaranteed
Over 15 Years of Experience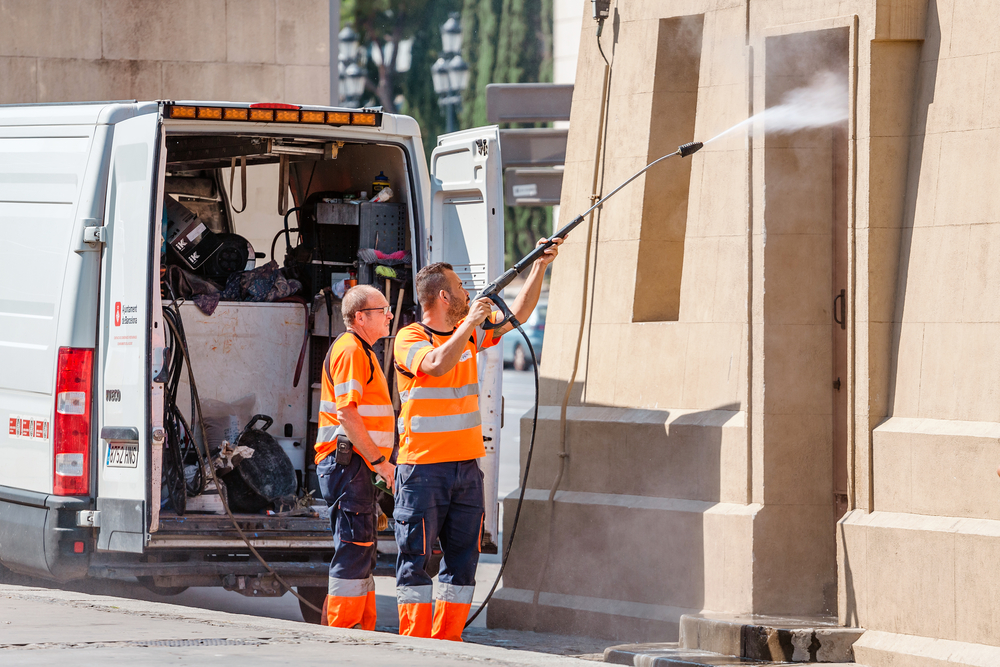 It is our goal at Annapolis Brothers Power Washing in Davidsonville, MD, to keep beautifying each individual's residence or commercial property one at a time with industry leading techniques. Our attention to detail, outstanding customer service, and expert use of commercial grade equipment, ensures that you receive the most thorough and long-lasting results- 100% Satisfaction Guaranteed!
Hiring a professional exterior maintenance service will not only save you money but also your time and energy. Contact the expert cleaners today for a free estimate!
(410) 571-4121
Residential Washing Services
Property maintenance can often feel like a huge task. Thinking about maintaining driveways, walkways, siding and rain gutters all accumulate tough build-up, stains, cobwebs, and grime over time. When left unkept your home's exterior can develop mold, mildew, dirt, and many other contaminants to become fixed to your home's exterior. This can have a negative effect on your home's curb appeal but, more importantly, cause irreversible damage to your home's exterior, and consequently take away value from your property.
Your home is your sanctuary that you should be proud to live in. With that pride, comes our attention to detail in keeping your homes exterior as beautiful as possible. We have the right equipment and over 15 years of experience helping our neighbors homes in Davidsonville, MD and in Edgewater, MD to stay in pristine condition. Allow our team to assist and provide exterior home maintenance services for you today!
Commercial Cleaning Services
The exterior of your commercial property can have long lasting first impressions that will either attract or deter clients. For potential customers, a dirty storefront can communicate neglect to your business and a lack of professionalism. With our professional techniques we will remove most unsightly surface grime, mold, foul odors, and years of build-up. In addition, power and soft washing can remove the majority of oily deposits and pollutants reducing the risk of liability and preserve the safety of customers and employees.
We provide many different types of commercial and industrial exterior cleaning services. We have all the right tools, skilled workers, technique and knowledge to clean your property correctly. We do power and soft washing for:
Decks and Patios
Gutters
Sidewalks and Driveways
Roofs
Windows
Our team of professionals will listen to your needs and develop a plan that will not disrupt your operations or day-to-day procedures. When it is convenient for you, call or fill out our online free estimate form.
Pressure Cleaning
This technique is an affordable way to restore your home's beauty as well as increase the value quickly! We promise to treat your home as if it were our own and will clean it with the utmost attention to detail. Our residential services are also great for those who are preparing to sell their property. According to the local real estate experts, a single pressure washing job can add thousands of dollars to a home's sales price! This popular method of pressure cleaning Davidsonville, MD is considered the lowest-cost home improvement project with the highest return on investment. What are you waiting for? Try it out for yourself today.
Our Top-Rated Services Davidsonville, MD
Soft Washing restores delicate surfaces and substrates, which could be damaged easily with using too much pressure and highly aggressive methods. We prefer to use soft washing on a variety of different exterior surfaces and materials around your home including brick, stone, stucco, masonry, siding, and asphalt shingles. Our professional Soft Washing Davidsonville, MD services promise to remove tough stains, mildew and fungi.
We use the industries best cleansers tailored for each specific surface
We will thoroughly rinse using very low pressure but with a high volume of water which leaves the area clean and spot free
We guarantee your property, belongings, and landscaping will be protected from start to finish
Dirty Windows? We Can Help!
Our #1 rated window cleaning service can revive your home or business in no time. Once you have Annapolis Brothers Power Washing clean your glass, there will be no turning back. Our methods will leave your windows streak free and sparkling from the streets.
Windows Cleaned inside/out
Track, Frames and Screen Cleaning
Specializing Hard Water Removal
Overflowing Gutters? We are here for you!
Gutters are designed to carry water away from your home, except when they are full of debris and blocked from doing their job. When this happens homeowners may experience; flooding basements, foundation issues, wrecked landscaping, and the list goes on. Don't allow your gutters to cost you expensive repairs, allow the expert gutter cleaners Davidsonville, MD to help you.
Gutter Cleaning
Un-Clogging Down-Spouts
Final Rinse Through
Here at Annapolis Brothers Power Washing, we are here for our neighbors and will provide our 5 star exterior washing services at every job. We have taken the time to perfect our cleaning solutions and techniques because we want to serve our clients better. For this reason, we have also properly trained each employee on our team to do the same. When you choose us you will be amazed with the ultimate cleaning transformation.
Call Your Local Exterior Cleaning Pro's of Davidsonville, MD Today!
(410) 571-4121
Annapolis Brothers Power Washing
Average rating:
7 reviews
Mar 14, 2019
Loved their work. They show up when they say and do an excellent job! Will hire again.
Mar 14, 2019
Thank you for doing such a great job on cleaning our siding! These guys are the best around!
Mar 7, 2019
We had annapolis brothers power washing come to our commercial property and wash the sidewalks and store front... and wow does it look good! It has been worthy every penny getting it done monthly.
Mar 7, 2019
This company trains their employees well. They are always polite and show up on time. Their work is the best and most detailed ive found here in Davidsonville!
Feb 28, 2019
Fast scheduling and affordable pricing!! My family and i always turn to annapolis brothers when we need exterior washing services!
Feb 28, 2019
These guys do awesome work and they are so friendly. Every time i hire them, i know i can expect great prices and detailed work!
Feb 28, 2019
I had annapolis brothers come to my home for a free estimate, the estimate was reasonable so i accepted. Scheduling was fast and easy, later that week they soft washed my homes exterior and my roof. It looks incredible!!!! We are so happy with the results!