Gutter Cleaning Annapolis, MD
100% Satisfaction Guaranteed
Over 15 Years of Experience
Free Estimates
5-Star Service
Fully Insured
Trustworthy & Affordable
Call For a Free Estimate!
(410) 571-4121
Gutter Cleaning Service
Consistent and proper gutter system maintenance is vital in preserving property value and keeping your home looking its best. If your gutters are neglected, all other exterior maintenance efforts are useless. Clogged gutters and downspouts can cause serious, long-term problems that can affect your entire home, from your landscaping to the entire building foundation!
Allow us to help you keep your gutters flowing properly with our highly-rated cleaning service.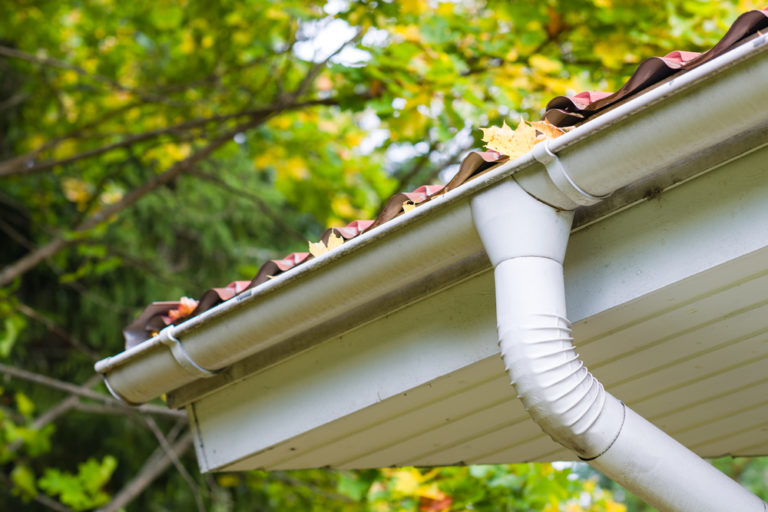 Local Gutter & Downspout Cleaning
Gutters and downspouts must be inspected throughout the year, particularly around late summer/early fall and late spring. However, it really depends on where you live and how many large trees you have near your property. In Maryland, however, we recommend inspecting and cleaning them at least twice a year before and, if possible, after fall and just before summer. During the fall and spring, trees shed leaves and pollen, two common gutter cloggers. Other common cloggers are twigs, small branches, mud from the rain, and animal feces.
As with any exterior maintenance project, gutter cleaning is a preventative service that can save you a lot of money later on. Repairs to your roof, gutters, and building foundation can be extremely expensive! Avoid that with routine maintenance. We'd be happy to schedule regular visits to your home or commercial building to keep your property functioning properly.
3 Reasons Why Routine Gutter Maintenance is Vital
1. Prevents Roof Damage
When your gutters are full of debris, they will begin to overflow, and could potentially cause damage to your roof. Stagnant water sitting for a long period of time will cause roof rot.
3. Keeps Insects & Bacteria Away
Gutters that are swampy and dirty welcome mildew, algae, and insects. Keep them clean and ward off insects and bacteria.
4. Prevents Foundation Issues
Gutters allow water to flow away from your home. However, when they are clogged and overflowing, the opposite happens. Water will drip down, create cracks, and eventually make its way into the basement. This can lead to mold; rot; flooding; and a weakened, unstable foundation, leaving you with an expensive repair, not to mention a dangerous living environment!
Expert Gutter Cleaning Services in Anne Arundel County
If you are looking for a trustworthy and reliable company to take care of this job for you, look no further. Our technicians will provide you with a fast and efficient service that will leave your gutters free of dirt, mold, and leaves. We manually remove all the debris first, using scoopers for the more compact debris. Afterwards, using a low pressure setting to avoid damage caused by traditional power cleaning, we flush them clean for a complete cleanse. We ensure your gutters and downspouts are 100% cleared by running water through them and making sure it drains without any issues. When we are done, you won't have to worry about overflowing and further property damage. Let us show you what 100% customer satisfaction looks like!
Call For a Free Estimate!
(410) 571-4121