Pressure Washing Crofton, MD
Free Quotes
Fully Certified & Insured
Prompt & Reliable Services
100% Customer Satisfaction Guaranteed
Over 15 Years of Experience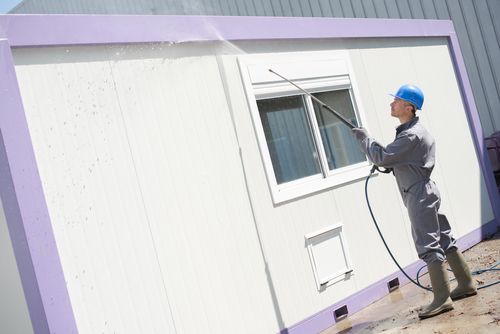 Our team in Crofton, Maryland provides 5-star exterior house maintenance. It is our goal to transform your residential or commercial property right before your eyes with our superior service. We have the ability to remove the most stubborn of stains and offer competitive prices! Our company is fully licensed, insured, and each employee is professionally trained. 100% Satisfaction Guaranteed. Give us a call to schedule your free estimate!
(410) 571-4121
What is Pressure Cleaning?
People commonly hear of pressure cleaning and soft washing but many are confused about which method is the best option for their home in Crofton. Pressure cleaning uses the perfect amount of water pressure to clean just about any surface. It will remove mold, oil residue, and even tough stains. When you request a free estimate with our trained techs, they will tell you exactly which type of method is most appropriate for your cleaning job.
Soft Wash Your Home
The most popular method used in our industry is soft washing. This technique treats the infection of the stain and lets the detergents sanitize and do 100% of the work. They fight mildew, algae, moss, and lichens at the root, not just the surface. This allows for a deeper, longer-lasting clean. No damaging pressure, harsh chemicals, or heat are needed, and only 1/3 of the water is used compared to traditional pressure washing! Call us today, for more information about our service offerings in Crofton, Maryland.
Benefits to Exterior Home Maintenance:
Gentle, Low-Pressure Soft Washing Technology
Cleaning Method Can Reach 40-80 Feet from the Ground
100% Biodegradable Detergents
Enhance Curb Appeal
Completely Remove All Bacteria Infestation
Decrease Utility Bills
Increase Resale Value
Add Years Back to the Life of Your Investment
Decrease Allergens
Only Method Approved to Clean Asphalt Shingle Roofs
Longer Lasting Clean
Hire Your Local Professionals
Many homeowners attempt to do their exterior maintenance jobs themselves. This can be dangerous and, in the long run, expensive. There are specific techniques of pressure required for different surfaces that the operator needs to know about, as well as cleaning methods and which nozzles to use. It can be costly and time-consuming renting a power washing machine and in the end having a big mess to clean up on your own. With our company, we will make it easy for you. Simply call to make an appointment with us here in Crofton, Maryland. We also offer exterior maintenance in Davidsonville, MD! We will send a certified tech to you in no time. We can help you beautify your business' or home's exterior!
Soft Wash
Window Cleaning
Gutter Cleaning
Patio Washing
Save yourself time and the potential risk of injury from attempting to wash the exterior of your home from top to bottom. We have the man power and the right equipment to get your home sparkling in no time at all. Choose the professional pressure cleaners in Crofton, MD! We will ensure that your home gets cleaned the right way – safely and efficiently. 100% Customer Satisfaction Guaranteed!
Call Today For a Free Estimate!
(410) 571-4121
annapolis brothers power washing
Average rating:
7 reviews
Mar 2, 2019
The crew showed up on time, ready to work! We had our roof cleaned and our windows washed by annapolis brothers, and we are very pleased with the results.
Mar 2, 2019
This company is the best pressure cleaning company in Crofton md. These guys are skilled and know what they are doing. The price was also very reasonable.
Feb 28, 2019
Great soft washing service. The techs were polite and cleaned up after themselves. I will be using this company again soon!
Feb 28, 2019
Annapolis Brothers power washing did an excellent job!! I am so impressed with how clean the exterior of my home looks!! It looks like it has been freshly painted!
Feb 22, 2019
This company provides 5 star pressure cleaning services!! They came and cleaned our siding and our driveway and it looks brand new!
Feb 22, 2019
I was in desperate need of a roof washing before showing our home at an open house and they got me put on the schedule quickly and did a spectacular job!
Feb 22, 2019
This company knows their techniques. They showed up on time, and were very thorough in removing stubborn stains on my siding. I give them 5 stars!